Name: Laurel Ness

Age: Freshly 19 (I had my birthday on the trip!)

Home Town: Richmond, Virginia

Area of Study: Biology and Forensic Science

Year in School: Sophomore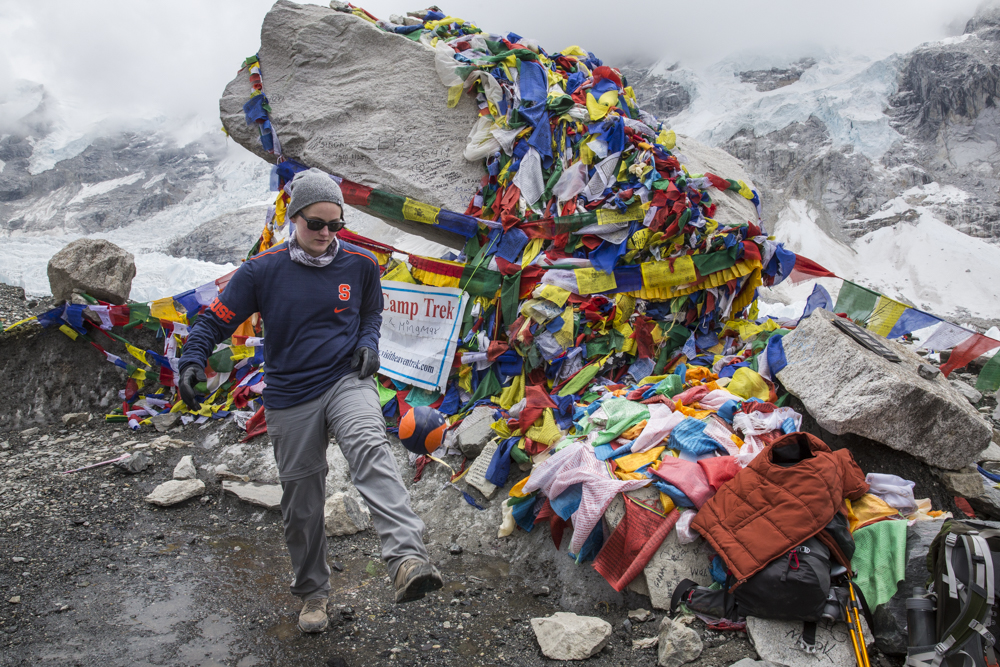 shows off her ball handling skills at Everest base camp.I joined the Everest Base Camp Expedition because… I really enjoy traveling and have traveled to Europe a lot but never to Asia. As soon as I saw this opportunity I started filling out the application and had a meeting with Tom. It seemed like a great fit with how much I loved the outdoors.  While hiking 7 hours a day might not sound appealing to everyone, I was really excited to constantly be outside and see how my body would do at such extreme altitudes that I most likely won't experience ever again.
I'm involved with the SU research studies by… I am one of the guinea pigs in the research studies. Actually I am a dropout-guinea pig for most of the studies. Unfortunately my excitement for altitude may have been too much for my body, which reacted poorly to our highest altitudes. I was one of the few who got AMS (Altitude Mountain Sickness) and was put on Diamox. This is the only medication for altitude sickness but it also ruins your data for most of the projects that we are doing. Unfortunately most of my data will likely not be used.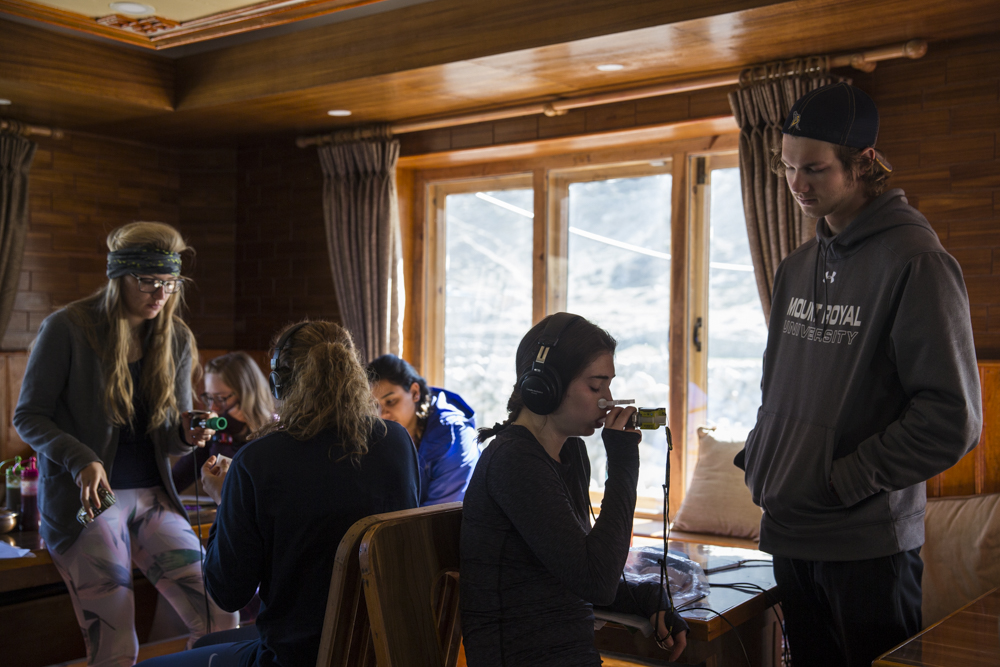 My favorite part of the trip so far has been…  I think our downtime is when the most interesting things happen. From my roommate getting stuck in the bathroom to everyone looking for Chad who went for one of many impromptu coffee runs, things are pretty chaotic here in Nepal. My favorite downtime moment has to be playing cards with everyone. I've learned some fun new games and I would say I am equally bad at all of them. Although I have been told my commentary during them is entertaining so I guess I can work with that.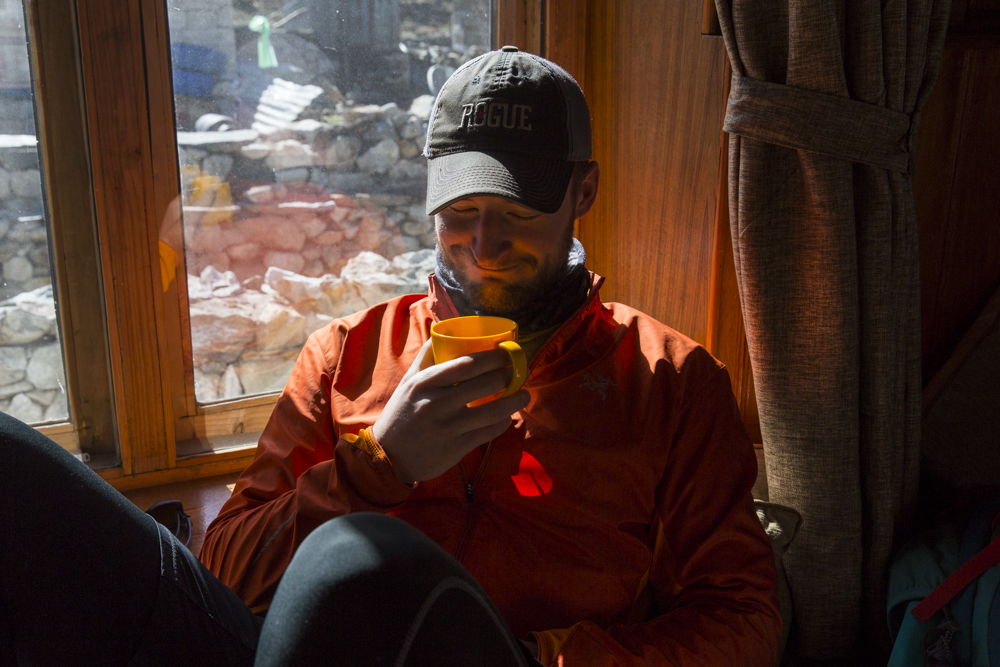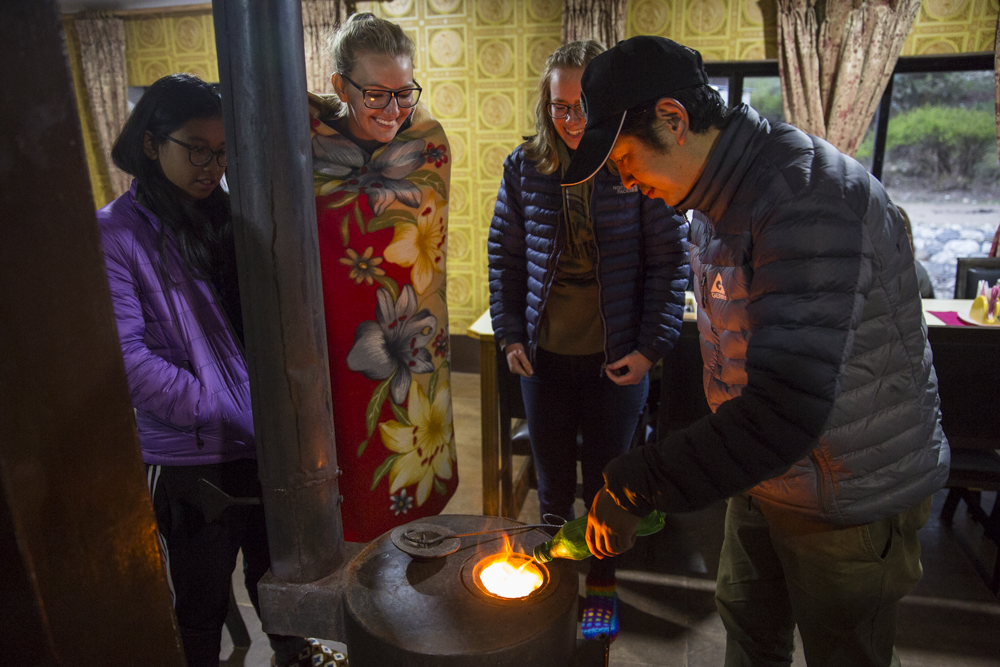 The worst part of the trip so far… Definitely has to be getting AMS. I was very close to not making it Everest Base Camp after having trouble breathing. With the help of Nima carrying my bag and having to take a diabetic's Sprite I staggered into Base Camp. Then once I finally got over my AMS as we started our descent I picked up some sort of cold that has left me coughing throughout the night and with just about no voice. I believe we have a karaoke night coming up and I'm intrigued to see how many people can live through my screeches.
A few things I've thought were interesting… I think my most interesting day here in Nepal was when we received our breakfast, consisting of toast and eggs as always, and a majority of the eggs were not properly cooked. Some were black and green, some were undercooked, others were not even a color. But mine ended up being probably one of the best. I cracked mine open on the table and it literally exploded making the sound of a firecracker. This was immediately followed by the beautiful smell of rotten egg that enveloped the whole room. We've all been a little hesitant with our eggs ever since.
One thing most people don't know about me… Most people on the trip know that I love science and that I play on the women's soccer team at Syracuse but what they don't know is that I am a lover of the arts. Specifically theatre and movies. My best friend back home is a film major and we always do a 48 hour film festival where we give each other a film genre, a line, a character, a prop and then 48 hours to create a 15 minute film with all of the criteria. It is quite intense and filled with lots of caffeine. I also took theatre in high school allowing me to be a Thespian. My favorite theatre excursions were monologues and improv.
 Daily Recap
Today we hiked from Pheriche to Debuche declining almost 1000 meters. This was pretty helpful in clearing up any lingering headaches that people have from the high altitude. The first 15 or 20 minutes of the hike was a lie in my eyes because it was completely uphill. We had a bit of a break due to an injury someone received (who is now fine) which allowed us to take in the beautiful views of Nepal that we've seen this entire trip.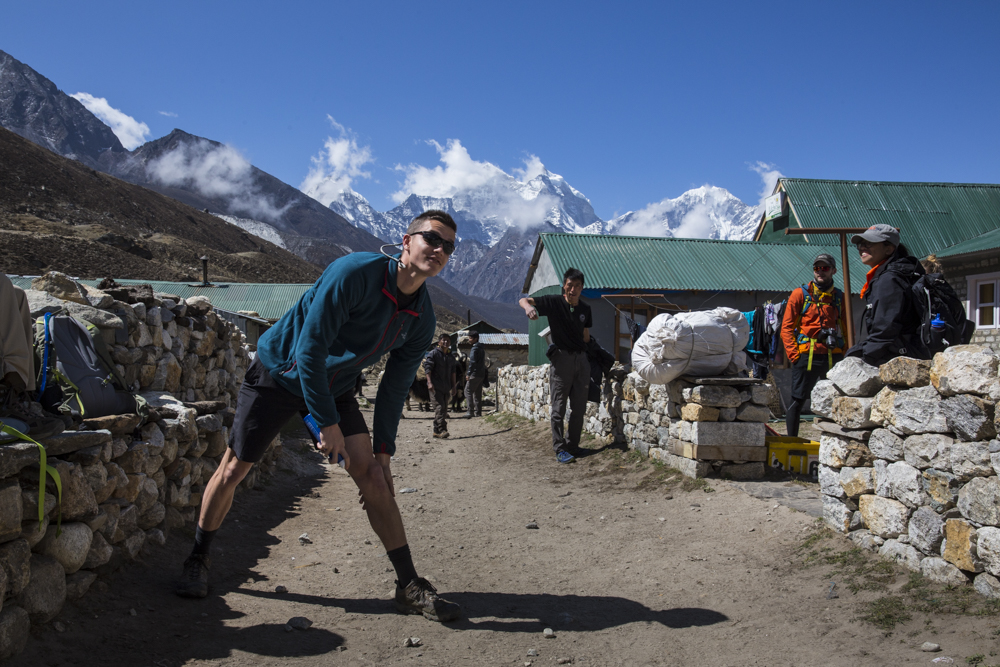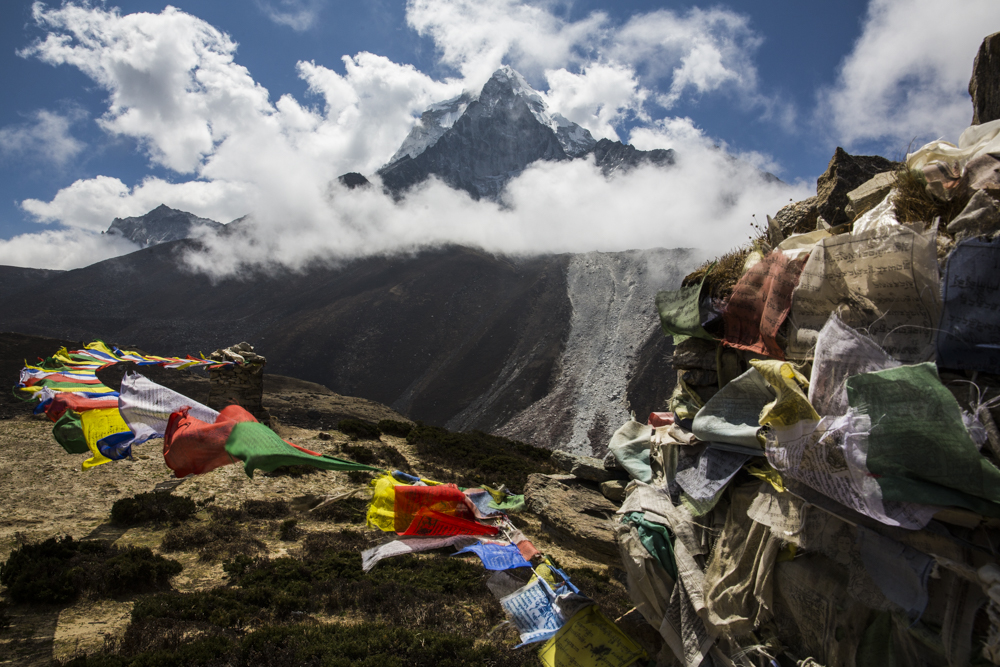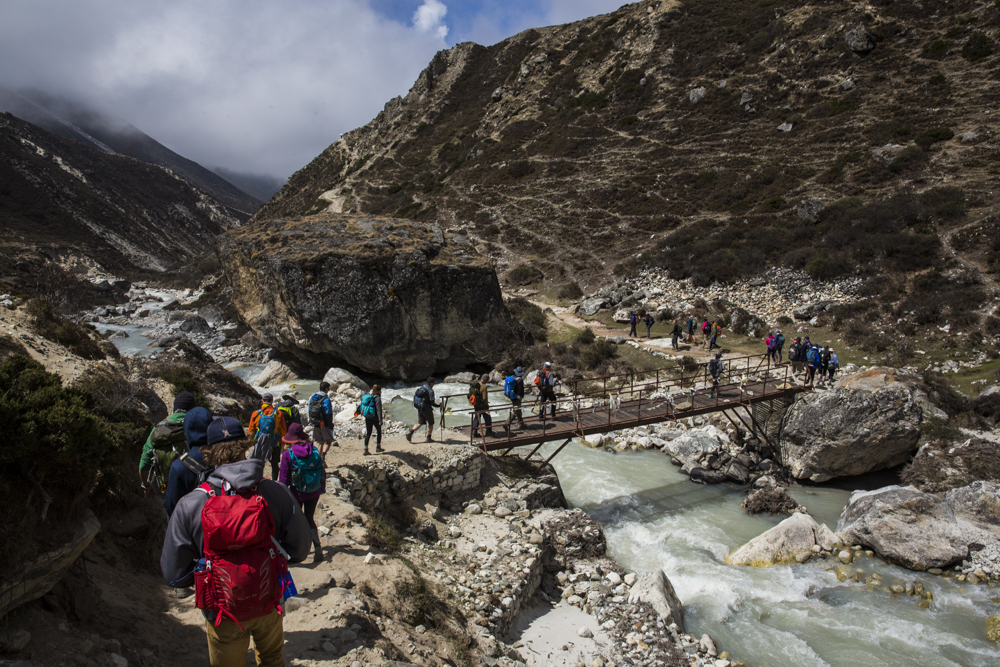 Once we actually got to Debuche we had lunch and then about 4 hours of downtime. People had an array of options to fill up the rest of the day. Some people went to the monastery a little further up to see a Buddhist ceremony. Unfortunately there was a lot more tourists than Buddhist monks actually there but the building was beautiful. Another option was to take a nice warm shower for the price of 500 rupees (approx $5 USD). The last option, which I took part in, was playing cards for all 4 hours. Yes I know, well spent time.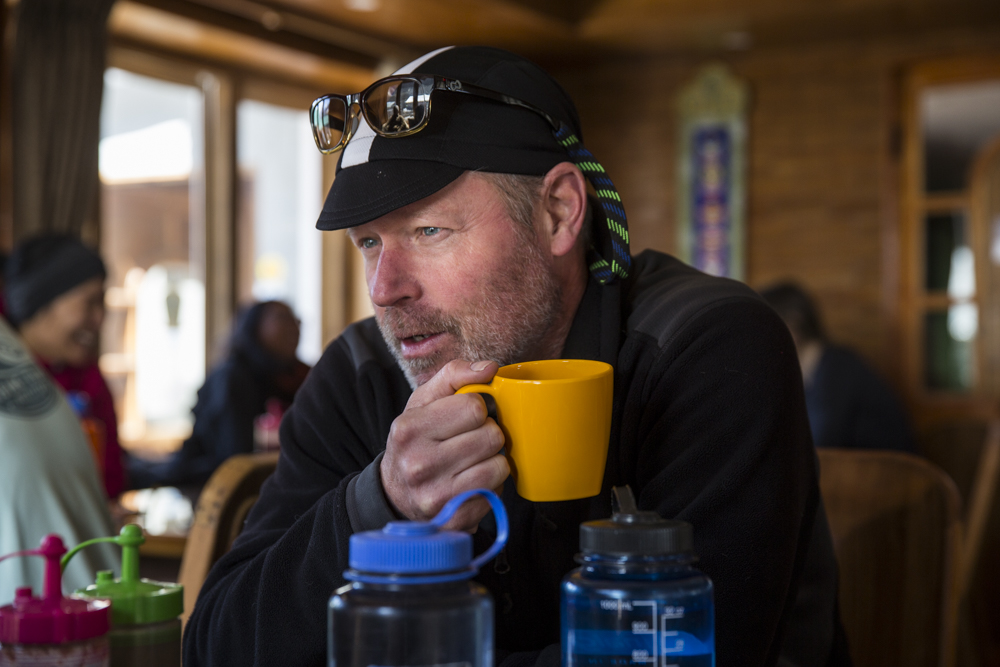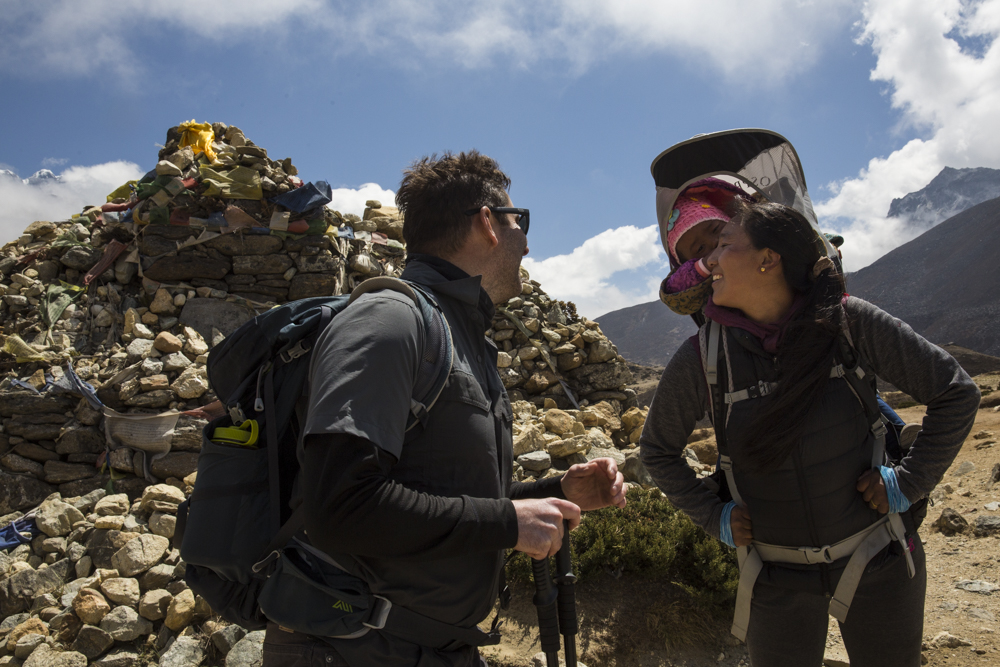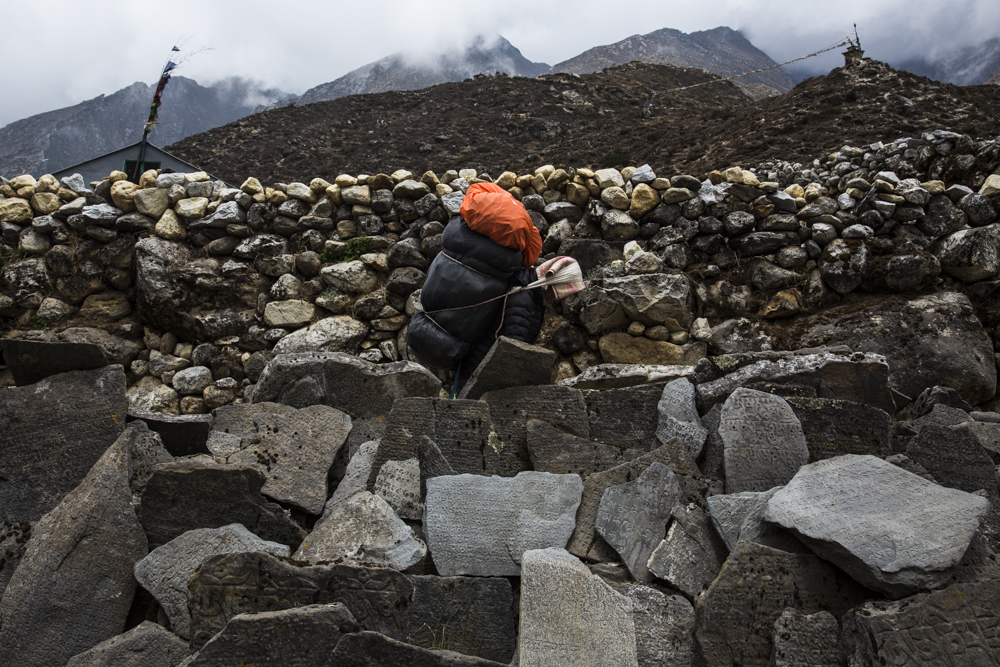 Afterwards we all sat down in the common room to watch the movie Everest which is somewhat based on the book we were required to read for this course "Into Thin Air". Most people noticed that the book and the movie varied in there portrayal of many of the characters and left us wondering what these people were actually like. We had a wonderful dinner immediately following the movie consisting of pasta, potatoes, and rice. We then had our final guest speaker, Anne Kalker, tell us about the steps we should take when someone gets injured. It had a lot of audience involvement as she made up scenarios for two bystanders to help save their patient. Everyone immediately crashed after this and had some of the best nights sleep we've gotten after being at such high altitudes.